Come One, Come All to the 21st Annual
Jefferson Township Day Celebration
The Jefferson Arts Committee has scheduled the 21st anniversary celebration of Jefferson Township Day for Saturday, July 14, 2007 (rain date Sunday, July 15) at the Jefferson Township High School fields located behind the school at 1010 Weldon Road in Oak Ridge. The day's events will begin with the traditional kick-off parade along Weldon Road at 11 AM.
There will be plenty of family fun with an expected 50+-arts/crafts/merchandise vendors lining the field offering their products in addition to a dozen or more food vendors tempting your palate. There will be continuous live entertainment and demonstrations throughout the day into the evening on the field, the main stage, and the small stage including special performances by local young adult bands. Children will have fun on the inflatable activities, trying their hand at games of skill and field games, and participating in the fishing contest and decorated box contest. Everyone can test their skills climbing the rock wall, playing in a game of laser tag or Irish Road Bowling.
Browse through the service organization tables offering informative materials and then have fun shopping and eating with family and friends being sure to purchase some 50/50 tickets.
Following the presentation of the Mayor's Citizens of the Year Awards, enjoy a concert under the stars featuring the talented voices of the Jefferson Community Chorus at 8 PM and the fine instrumental expertise of the Jefferson Township Community Band at 8:45 PM. Once the 50/50 raffle winner is called, relax and look up at the sky for the best aerial fireworks display in northern New Jersey!
Admission is free all day, but a nominal admission fee ($2 per adult/$1 per child) will apply at all gates beginning at 6 PM. Parking is free during the day in the Jefferson Township Middle School, Jefferson Township High School, and Jefferson Township Municipal Building/Library parking lots; on Sparta Mountain Road and Weldon Road; and at the SnoBowl area on Weldon Road (adjacent to the middle school); but the high school's parking lot B will be by permit only. Beginning at 6 pm, there will be a $5 per car fee for those entering the Jefferson Township Middle School and High School parking lots. The entire event is handicapped accessible.
For information call 973-697-2032 or 973-697-3828, watch area newspapers for details as the day approaches, and log on to www.jeffersontownship.net (Events) and www.jeffersonarts.org for updated schedules and important information.
Write Saturday, July 14th on your calendar today!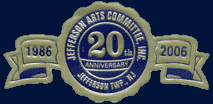 This page last updated on: 3 March 2007
Design by FireLightPro